2021Build Columbia SC Pergolas/Gazebos FREE Quote Call ☎ Today! Columbia SC Trellis Arbors Garden Structures Install Custom Columbia SC Gazebos Arbors Pergolas Cost Contractor Company
Build Columbia SC Pergolas/Gazebos Contractors Repair Columbia SC Trellis Arbors Garden Structures Install Custom Columbia SC Gazebos Arbors Pergolas Cost Contractor Company Columbia SC Gazebos Patio Covers Trellises Pergolas Columbia SC Arbors Garden Design Structures
Columbia SC Garden structures
COLUMBIA SC PERGOLA
A Pergola is a wooden freestanding or off the house structure built as an outdoor sitting area with lattice or open slat roof for partial shade. A pergola is good, covered with trellises and climbers, giving dappled light. However, many people are wary of a pergola cutting out too much light to the interior of the house. Pergola have a flat roof and large joists that project beyond the support posts. Our pergola is handcrafted by skilled craftsmen using the finest materials and finishes. These structures are sure to add elegance and class to any setting. Whether you choose our exclusive custom pergola or our handcrafted cedar open rafter the solid wood, you have a wide range of options that will allow you to adapt your pergola to any garden situation. Provide support for climbing roses, vines and other plants to create an opening that draws visual attention through the pergola and beyond.
Columbia SC Trellises
Trellises are structures originally designed as a resting and winding place for plants that are unruly. Our trellises are available in a variety of shapes, sizes, and designs so that they can give your garden or outdoor space a unique decorative flair. Add a wall trellis as part of your garden decor that is ideal for long vines or foliage to grow in and around.
Columbia SC Arbors
Arbors were used to tame the unruly plants that went sprawling, rambling and twining with happy abandon throughout the garden. Return to the graceful arbors that enhanced romantic gardens of the past. Arbors are a great invitation into the garden, and we are sure you've seen plenty of them in all shapes and sizes. Our Arbors allows you to add additional Classic Arbors to create a unique and dramatic arbors tunnel.
New Custom Gazebo and Deck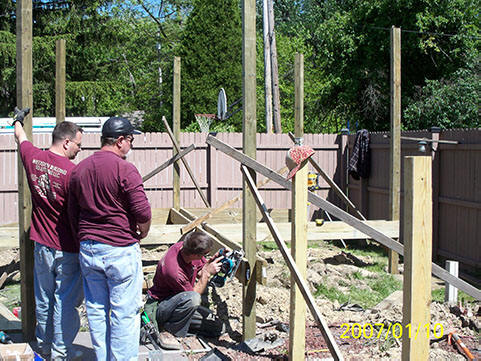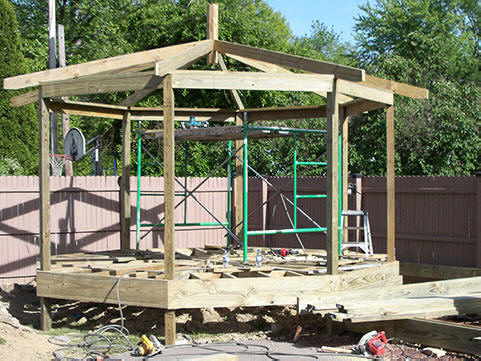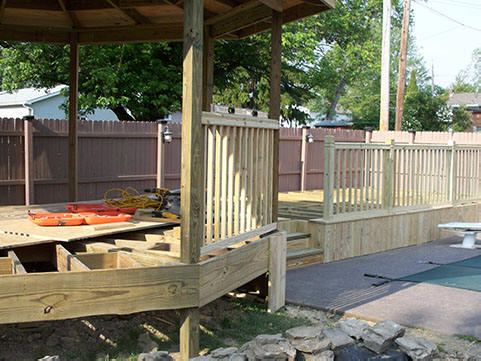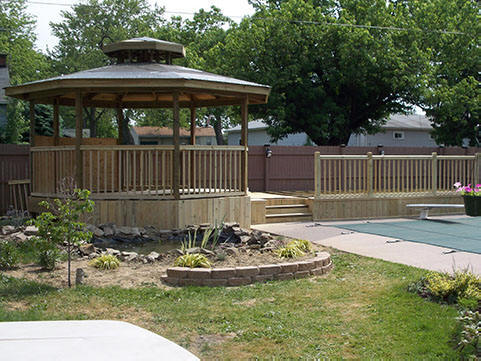 Types of Structures
There are several types of structures you can have built, and what they are called depends on how you will use them:
A arbor is an open beamed structure set in a garden that is designed to support plants.
A pergola is traditionally a covered walkway but now also refers to an open beamed structure used for dining and entertaining.
A patio cover is a temporary or permanent covering placed over an existing raised platform, patio area or concrete pad.
A gazebo is usually a structure used for shelter and viewing the garden.
A pavilion is a roofed, outdoor room with open sides.
Design Elements For Wood Arbors, Pergolas & Patio Covers
The style of your arbor, pergola or patio cover is created with design and construction components. By changing these key design elements and details, you can create a specific style or a totally unique design:
post size (4 x 4, 6 x 6 or round columns) cross beam and rafter size joinery techniques (decorative pegs, notched or interlocking beams) overhead pattern and complexity (1,2,3+tiers) finishing touches (decorative end beam cuts) wood texture, color and finish decorative metalwork night time and accent lighting...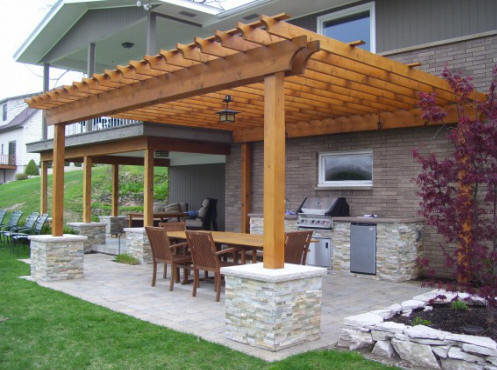 Harmonizing Your Arbor With Your Home & Garden
Your arbor, pergola or patio cover should harmonize with the style of your home and garden: a formal structure for a formal garden a classic design for a classically laid out garden a flowing design for a garden with swept paths and flowing planting borders.
If your home has a distinctive architectural or artistic style, you may want to have your arbor, pergola or patio cover match it.
Arbors ~Start with smooth planed wood beams and posts. Add in simple yet strongly defined joinery. Add in "japanese" style joinery and decorative pegs for a Smooth look. Embellish with latticed accents, trellises, craftsman style lighting fixtures and copper accents for this style.
Mission & Spanish Arbors ~ Use large, heavy beams, corbels and decorative beam end cuts to create this look. Then add rough metal work and period lighting to complete it.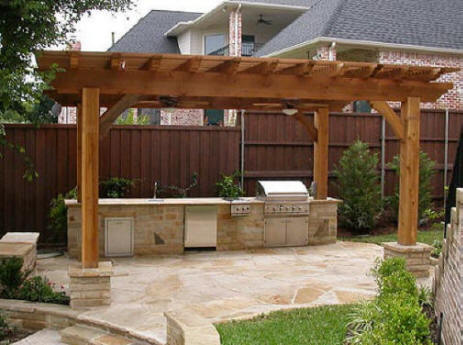 Modern & Asian Arbors ~ Create a sleek design that echoes the elegance and simplicity of these styles. Accent with minimalist or traditional Asian lighting fixtures for nighttime use and garden viewing.
Medieval, Tudor & Mediterranean Arbors ~ Start with heavy beams and posts and assemble them using simple period joinery. Use carved accents, decorative metalwork and candle lanterns for finish accents. Stain or paint a dark color.